Replatforming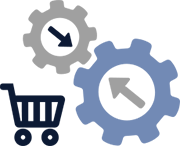 Look no further – Holbi is a specialist in replatforming.
We understand the pain and the gain of moving to a new Ecommerce platform.
First we learn more about the business, and can organize an on-site visit.
Complete proposal is made, explaining the benefits.
Data (current and historical) is carefully migrated. We look after on-site SEO.
Payment and shipping solutions get integrated, and so are all required 3rd.
Hosting solution gets designed and implemented. Security and data safety.