Adding Free Module from Admin Area
August 11, 2023
Taking your website to the next level is now easier than ever with the availability of free modules from the App Shop. By integrating these powerful modules into your online store, you can enhance functionality and improve user experience. In this blog post, we'll walk you through the process of adding a free module from the admin area. Before we begin, make sure your website is connected to the App Shop as outlined in the manual "Connecting to App Shop." Let's get started!
Step 1: Access the Admin Area
To begin, log in to the admin area of your website. This area provides you with the necessary tools to manage and customize your online store.
Step 2: Navigate to App Shop and Store Tabs
In the admin area, locate and click on both the "App Shop" and "Store" tabs that will lead you to a wide selection of modules.
Step 3: Find the Required Module
Once you're in the "App Shop" section, browse through the available modules to find the one that suits your needs. These modules are ready for installation, so you can begin enhancing your website without any hassle.
Step 4: Ready for Installation
Once you've identified the desired module, it's ready for installation. Simply follow the prompts to install the module into your online store.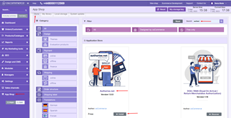 Congratulations! By adding free modules from the admin area, you've taken a significant step towards enriching your website's capabilities and providing a better user experience for your customers. With a seamless integration process and a plethora of modules to choose from, your online store is now equipped to offer enhanced functionalities and cater to the unique needs of your audience. Explore the App Shop regularly for more exciting modules to further elevate your website. Happy enhancing!